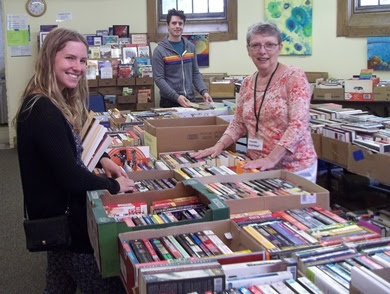 Hello book lovers!
No doubt you have missed the book sales at the Bixby Library in Vergennes. An outdoor book sale is planned for July 18th from 10 am to 2pm (please no early birds), located behind the Bixby Library! Masks and social distancing required. If rain is imminent we will reschedule the book sale, check the library website for event updates.
Organized by The Friends of the Bixby, a group that raises money to fund special library programs and projects. Most recently, funding from the Friends purchased a 24 foot movie screen that will be used outdoors & the Friends donated over 700 books to our community for Bixby Boredom Bags given away in April!
To find out more about the Friends visit: https://bixbylibrary.org/friends-of-bixby/ or call 802-877-2211
Thank you to all those that brought book donations to our earlier event! We received so many great titles and look forward to finding them new homes this coming weekend! Please to simplify things, do not bring book donations to the book sale.