You can now request items for curbside pickup, including Museum Passes!
What's happening at the library?
The Bixby Library is currently offering curbside pickup & remote services while we navigate the demands of Covid-19. You can also request to check out a museum/park passes for three days. Inter library loan services are also available with some new restrictions in place. We are available by email, live chat (click the chat bubble in the corner during normal business hours), or by phone (802-877-2211), please be patient and we will reach back out to you as soon as possible.
We have greatly increased our digital offerings. Please check out our online resources to find out about all the ebooks, audiobooks, databases, and more that you can access with your Bixby Library card. Look at our events calendar for virtual programming.
If you live in Addison, Ferrisburgh, Panton, Vergennes or Waltham we can sign you up remotely for a Bixby Library card. Please email Ashley or Laura with your Name, Address, Phone Number, and Email. We can help you get a card and provide instruction on accessing resources.
Book returns: All patrons may bring returns back to the Bixby. Drop in either of the 2 book drops, located in the back parking lot or by the front door. Please wait if you or anyone in your household is sick. There are no overdue fines being accrued at this time.
Wifi: Our free wifi, "Bixby Free Internet" will stay on and patrons can use our wifi from outside the building. There is also a map of public wifi hotspots all across Vermont.
Communication: The library will maintain communication through our website, Front Porch Forum, and Facebook. You can also sign up to receive our newsletter.
Recent Announcements
*FULL* Sign up for your Hygge Kit!
All of our Hygge Kits are claimed! Thank you for your interest. Winter blues got you down? Cozy up and get your hygge on with a free Hygge Kit. Kits contain a pair of socks generously donated by Darn Tough Socks, candles, and some treats, all designed to keep you… Read More
Recording of Audubon for Kids Winter Wonder program is now available!
In case you missed it the first time, or would like to watch it again, please join our Audubon presenter, Debbie Archer and your fellow Bixby patrons for a delightful hour of Birding for Kids - Winter Wonder Read More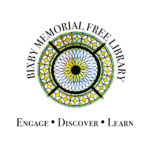 Bixby Buzz & Bixby Bulletin
Check out other recent news in our
newsletter
. You can sign up to receive these via email!