Nebizun: Water is Life, Abenaki Teach-in
March 25 @ 10:00 am

-

3:00 pm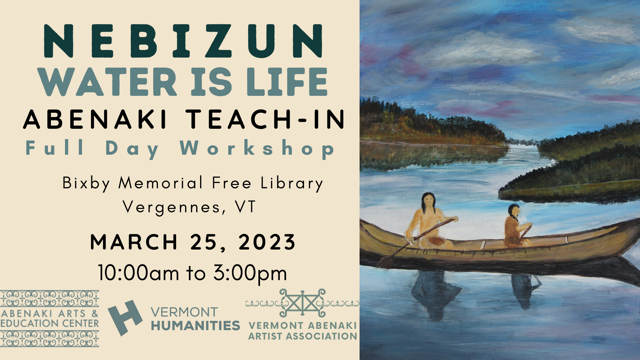 Abenaki Arts & Education Center is excited to announce an all-day teacher workshop at the Bixby Memorial Free Library. Please pass this opportunity on to those who may be interested.
Abenaki educators will inspire teachers with interactive, media-rich content that links 12,000 years of Abenaki history with 21st-century civic engagement. Participants will pursue a deeper understanding of the region's diversity through the voices of the American Abenaki people. From Lake Champlain to the Connecticut River Valley, the life-bringing waters of N'Dakinna (Abenaki for "Our Homeland") were our earliest highways for travel. The water itself is important to the plants, fish, animals, birds, and other wildlife that are necessary to our way of life.
Presenters will illustrate the Abenaki relationship to water, awareness of water as a fundamental element necessary for all life, and concern that pollution of water can change our traditional lifeways and the health of all our relations, human and animal. Participants will investigate resources, interact with Abenaki culture bearers, and be introduced to culturally responsive and sustaining teaching strategies to effectively incorporate diverse narratives into their curriculum.
Space is limited. Register now.
Where: Bixby Memorial Free Library, Vergennes, VT
When: March 25, 10 am to 3 pm
Materials Fee: $35 (includes lunch and materials). Submit your $35 materials fee and indicate it is a payment for the Water is Life: Abenaki Teach-In materials fee.
Registration: https://forms.gle/cttrCyGdaAfxKcMD8
The program is presented in partnership between Abenaki Arts & Education Center, and Vermont Abenaki Artists Association, and supported in part by Vermont Humanities.
Related Events