Drop off book donations!
June 27, 2020 @ 9:00 am

-

12:00 pm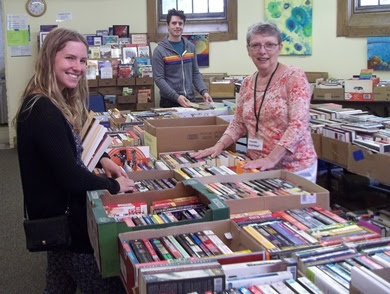 Hello book lovers! No doubt you have missed the book sales at the Bixby Library in Vergennes. An outdoor book sale is planned for July, organized by The Friends of the Bixby, a group that raises money to fund special library programs and projects. Most recently, funding from the Friends purchased a 24 foot movie screen that will be used outdoors & the Friends donated over 700 books to our community for Bixby Boredom Bags given away in April!
Get ready to update your book collection by donating books in June and then by coming to the sale in July!
Time for Book donations: Saturday June 27, 2020 from 9-Noon, outside in the parking lot behind the Bixby. Since this sale is to raise money for programs, please consider donating books that are in good condition; the kind you would appreciate buying. Come to the parking area behind the library and volunteers stationed outdoors will happily receive your donation. If they are in small boxes, that would be helpful! (Masks and social distancing required.) To find out more about the Friends and the type of books that are acceptable to donate visit: https://bixbylibrary.org/friends-of-bixby/ or call 802-877-2211.
Time for the Book Sale: Saturday July 11, 2020, from 9-Noon, more details to follow.
Thank you!
Related Events