What is hoopla?
hoopla is a digital media service offered through your Bixby library card that allows you to borrow movies, music, audiobooks, ebooks, comics and TV shows to enjoy on your computer, tablet, or phone – and even your TV! We are able to provide the first year of hoopla service through the use of the Freda Fishman Stroh Cultural Grant.
How do I get into hoopla?
You must first create a hoopla account. Go to the hoopla website and click "Get started today". After creating an account you choose Bixby Library as your home library then enter your Bixby Library card information. Please note, you set up your own hoopla account with your own login information, then attach your Bixby account to receive access to hoopla content.
You will need to know your Bixby Library card barcode, this is the full code (letters and numbers) on the back of your library card. This barcode starts with the number "2" and the letters "VSQI". For example, your Bixby barcode should look like: "2VSQI00000WXYZ". You will also need to know your account password. After entering this information into your hoopla account, you will have access to the collection!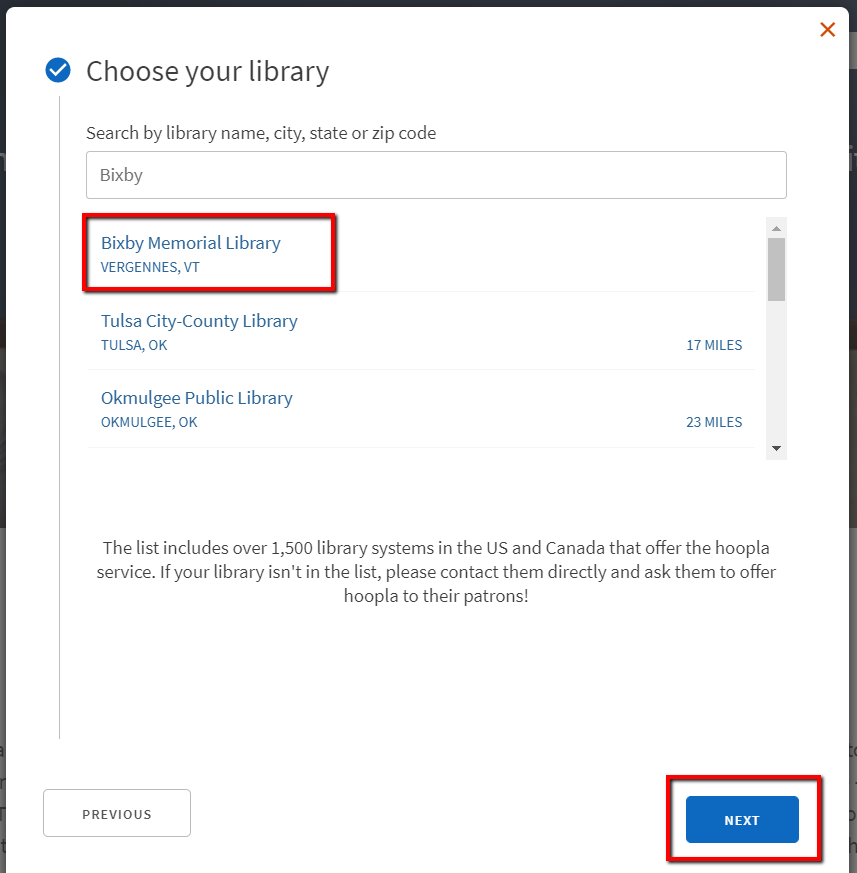 What is my Bixby library PIN/password?
The default password for your account witll either be "userpass" or the last 4 digits of your library card barcode. Before using this in hoopla, we strongly recommend changing your password to make your account more secure but if your password is set to "userpass" it will not work to login to hoopla and you must reset it.
Forgot your password, or want to change it? Go to the library catalog and click "Forgot your Password", then enter your library barcode. A password reset will be emailed to you.
If you do not know your library barcode, password, or have any trouble, please contact the library at 802-877-2211 or email info@bixbylibrary.org.
If you do not have a Bixby Library card and would like to receive one please come into the library and ask at the circulation desk.
How do I borrow/download hoopla content?
You can access hoopla from a computer, smartphone app (Apple Store , Google Play, Kindle Fire), or a smart tv, as long as you have an internet connected device. After creating an account and logging in, select an item and click on the Borrow button on the title details page. Once a title is borrowed, it is accessible by clicking on "My hoopla" on the website or in the app. You must remain logged in to view downloaded content.
How many items can I check out on hoopla?
You are able to check out three items a month on hoopla. As soon as the first day of the month arrives, you will have three new hoopla credits to use. Be sure to look for items labeled "Bonus Borrows", which do not count against your monthly allotment.
Additional Resources